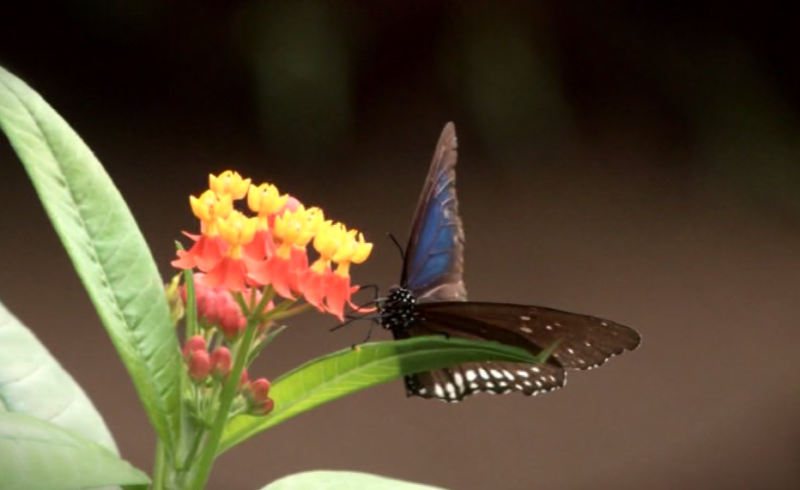 There are surprises at any time of the day and wherever you look at the Naturospace glasshouse in Honfleur. Here are all our tips so you can get the most out of your trip to the Amazon rainforest in Normandy.
Open since 1999, our butterfly glasshouse in Honfleur attracts a growing number of visitors every year. Here are some valuable tips so that everyone, young and old alike, may fully enjoy this unique moment.
Taking the time to watch
Avoid crowds of a morning as from 9.30 a.m. and enjoy cooler temperatures, though they do remain tropical in order to best preserve the site's flora and fauna. Make your way to the hatchery and watch the slow birth of butterflies live before their wings emerge and that they make their first flight. Those are magical moments! Our birds, who have spent the night in their nest amid our forest, are also more active. Of an evening, there are once again fewer visitors, you can make the most of these enchanting spots.
Our summer opening hours

June: open continuously 9.30 a.m.-6.30 p.m. July-August: open continuously 9.30 a.m.-7.30 p.m.
Taking the time to smell
Unique flowers, tropical plants… Every day is different in our tropical world, with a richness that permanently improves. Our teams wait on our plants hand and foot all year long by pruning, trimming, planting and enabling your eyes or sense of smell to experience unique scents in Normandy: Victoria cruziana (giant Amazon waterlily), Theobroma cacao (the drink of gods, cocoa), Vanilla planifola (an orchid creeper: vanilla)…
Taking the time… to linger
The Naturospace offers a large concentration of animal and plant species that cannot be observed immediately as a whole. Gouldian finch, Superb fruit dove, Victoria crowned pigeon (the largest pigeon in the world)… We invite you to seek out our exotic birds and watch them go about their day. The Peleides blue morpho (blue butterfly of the Amazon rainforest), Heliconius spp (small, multi-coloured South American butterflies)… Identify the colours and shapes of tropical butterfly wings, wait for them to gently come and rest on your shoulders, watch them enjoy their afternoon snack…
Retrace your steps, go round several times, each tour holds many surprises…
Head over to the ponds where live magnificent Koi carps you will perhaps be able to feed (food is available at our gift shop)…
Making the most of our explanatory panels
New educational panels have flourished to better inform you of environmental issues and actions the Naturospace is conducting towards preserving endangered species. You will receive a complimentary map of the site with each entrance ticket to help you discover the diversity of the Naturospace. Our team is also at your disposal to answer your questions.