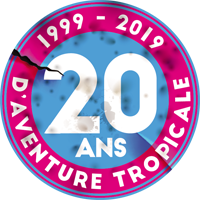 Visits which have been steadily on the rise since 1999, an ever growing number of birds… The Naturospace in Honfleur is already turning 20 with many upcoming events to look forward to!
As a unique butterfly house located a short walk away from the Vieux Bassin (old harbour) of Honfleur in Normandy, the Naturospace is merrily celebrating its 20
th
anniversary this year. Time to take a look back at a saga which has been governed by environmental protection.
Our butterfly house will be reopening on Saturday 2 February 2019 at 10 a.m.
A tropical forest in constant development
Over the years, our plants and trees have grown to become a proper tropical jungle: Among those species that have been present since the opening, an incredible variety of fig trees – which have mostly come from the French National Museum of Natural History in Paris – have taken over the premises, joined by banana cocoa trees, not to forget a rare orchid collection. Amid this natural jungle, our ornamental pond has always welcomed magnificent Koi carps that our young guests enjoy feeding.
Des papillons tropicaux et oiseaux exotiques toujours plus nombreux
Colourful, speckled or sometimes invisible to protect themselves from potential predators… Our butterflies have delighted our guests since the very beginning. The Naturospace team has been working with the same suppliers since this wonderful adventure started, following a sustainable development approach. . Introducing birds enabled our Normandy zoo to welcome rare specimens that are perfectly suited to our tropical environment. The first birds we introduced in 2007 were our Chinese Quails. They act as cleaners. In 2008, our Gouldian Finches and Swainson's Lorikeets made their first appearance, followed by our crested partridges, crowned pigeons, touracos… Our visitors are met with feathers of every colour under the sun!
New features for 2019
For 2019, we have drawn up a map of the glasshouse, which will be handed over to every family or group to help them observe plant and animal life within the glasshouse. Updated each season, this precious document will present the new specimens you see flying inside the glasshouse, trees currently in bloom, fun facts… it has been designed as an informative item you can take back home with you. A competition will be organised on social media with prizes to win. We shall tell you more about that very soon… Wishing a very Happy New Year, we look forward to welcoming you very soon for a weekend of sightseeing in Honfleur!
Ticket sales constantly on the rise
Ever since the Naturospace opened in 1999, the number of admission tickets has continued to grow, to near the figure of 100,000 visitors solely for 2018, our best year ever since the Naturospace was created. Grown-ups, children, tourists and school groups… We thank our dear public for supporting us in ever larger numbers!